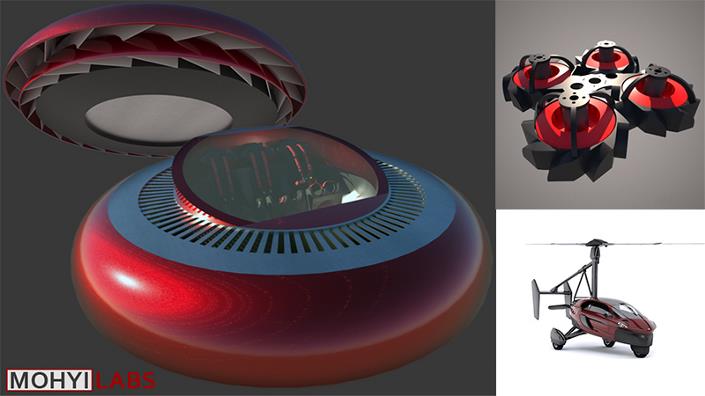 Flying cars have remained stubbornly fictional, with safety and regulatory concerns and battery technology keeping our personal vehicles pinned to earth.
But a bladeless propulsion system could change that. Speaking at Frost and Sullivan's Intelligent Mobility Event in London today, entrepreneur John Mohyi outlined his company's fascinating technology.
"The objective is to make flying cars practical in densely populated areas," he said. "Bladeless propulsion makes this possible by limited the blades that can cut people and harm infrastructure."
Mohyi Labs plans to demonstrate the technology in small autonomous drones before scaling it up to carry passengers. It works using 'ducted counter-vortex radio impeller technology,' where air is manipulated using waves rather than blades.
Currently, the biggest problem with flying cars is providing and storing enough energy to get them off the ground. According to Mohyi the bladeless concept is more energy efficient than a helicopter or quadcopter drone.

"As long as batteries take 37 times less energy per kilogram than petrol, there's still a long way to go to efficient flying," said Robert Dingemanse, the CEO of PAL-V.
His company, whose name stands for 'personal air and land vehicle' are developing the world's first commercially available flying car. The PAL-V Liberty is ready for pre-order and set to be completed by the end of next year.
Instead of a fixed wing or multi-rotor system, it uses a single fold-away rotor blade like a helicopter. Unlike other concepts, it's designed to fit in with current aviation and automotive regulations. "The regulatory framework is in a lot of cases a big inhibition to come to market," said Dingemanse. "That's why we build it within existing regulations, become a player in the market, and then later on start to influence regulations."
The PAL-V is designed for inter-urban travel – moving between cities rather than in them, precisely because of the safety implications of flying over built up areas.
But Mohyi Labs' bladeless technology could offer a solution for both drones and flying cars. Because there are no blades, drones with this technology can fly a lot closer to the ground where they can't fall and injure people. This opens up drone delivery as a much more practical solution in build up areas.
Mohyi outlined a solution for built-up areas where bladeless flying cars could hover above the ground within cities, or even slightly above regular traffic. "Using the cushion of ground effect, it uses ten times less power," he said.
They could even take to the water. "We should stop thinking about flying cars as just aerial vehicles but as air land and sea vehicles," said Mohyi. "Where we're going, we don't need roads."