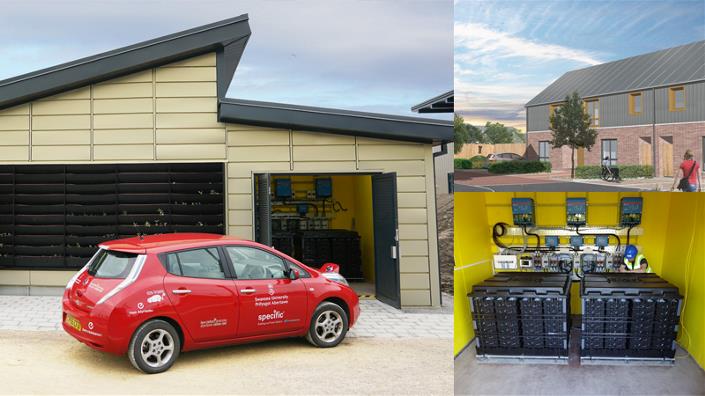 A new report reveals that household energy bills could be cut by as much as 60% if homes were designed to generate, store and release their own energy, saving the average household over £600 a year.
The report is based on a concept for a new social housing development in Wales that is currently in planning. The Active Homes Neath development is the first major project with energy generation and storage built into the design of new buildings.
The houses, which are being built by Pobl Group, Wales' largest housing association, feature solar roofs, shared battery storage, and the potential for electric vehicle charging points. A solar heat collector heats the water, and waste heat is captured and recycled.
The technology has already been implemented at a school in Swansea, which has the UK's first energy-positive classroom. Over six months the Active Classroom, which was developed by Swansea University's SPECIFIC Innovation & Knowledge Centre, generated more energy than it consumed.
The report, by independent energy consultant Andris Bankovskis, says that if 1 million homes like this were built across the UK it could reduce the amount of energy required at peak times by 3 gigawatts, and reduce carbon dioxide emissions be nearly 80 million tones over 40 years.
"The scale of the potential impacts is compelling, and demands that we make considered decisions about how we meet housing needs sustainably," said Bankovskis. "It suggests that if we are prepared to take some bold decisions about the way energy is supplied and used in our homes, the rewards could be significant and lasting."
Kevin Bygate, chief executive at SPECIFIC, called for more partnerships with industry and government to roll out renewable technology into new housing projects. "Today's report shows that households and the country as a whole can benefit if we design our homes to be power stations," he said. "The technology works, so what we need now is to build on our partnerships with industry and government and make it happen."
Nina Skorupska, chief executive of the Renewable Energy Association said that efficient homes could "empower consumers". "This new initiative is a good example of the bold innovation and big-thinking taking place in the renewable energy and clean tech industries right now," she added.
Jenifer Baxter, head of energy and environment at IMechE, told Professional Engineeringthat the Active Homes Project was a great example of bringing housing and energy initiatives together. "As we build more new homes across the U.K., new and innovative distributed, flexible energy systems will be required that can meet the needs of different regions," she said. "By creating local distributed energy systems that cater for domestic heat and power and transport the pressure on the centralised system can be reduced."
According to Chris Goodall, author of The Switch, homeowners could even sell power to their neighbours, but it would require an improvement in digital technology. "What there is a need for information technology which records how much is going out of your system and where it's being used," he has told PE. "Advances in digitalisation are making that easier and easier – we'll see sales and purchase systems developing. It's a perfect use of blockchain – highly distributed ledgers. That's what we'll eventually end up with – millions and millions of small producers, putting into a network and getting payment and paying via some sort of distributed ledger."