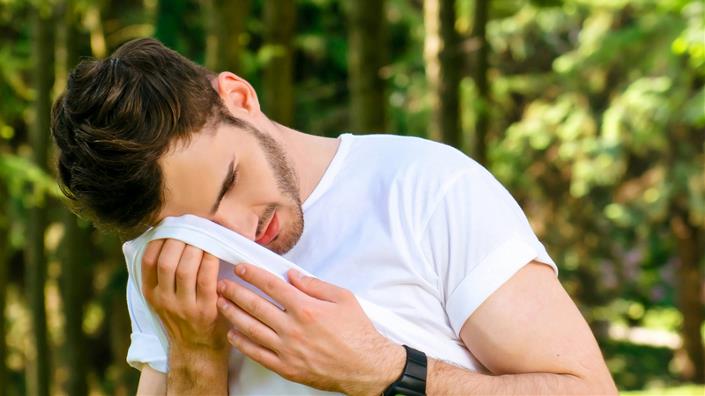 Your sweat could soon be used to monitor your daily health vitals even when you don't move much, say scientists.
A team at Stanford University, led by electrical engineer Sam Emaminejad, have developed a perspiration-based wearable biosensor platform for non-invasive health monitoring in real time.
Using sweat to obtain health-related information is not a new concept, but previous devices were often unable to collect enough from inactive individuals to provide accurate vitals.
The new invention "makes sweat sensing technology available to people such as the elderly," said Alex Chortos, a biomaterial electronics expert at Harvard University,  who was not involved in the research.
The platform is able to pick up data from small amounts of sweat using a wireless and electrochemical interface to collect perspiration output at different rates and time intervals when the user is not active.
The sensors in the device "stimulate the sweat glands with the aid of an electric current," the researchers wrote in the paper. This makes the user secrete sweat, analysing biomarkers such as electrolytes, metabolites and heavy metals in the body. The device can also measure chloride levels in sweat that are indicative of the lung disease cystic fibrosis, as well as blood glucose levels, the team added.
The scientists detected increased electrolyte content in the sweat of three users with cystic fibrosis, compared to six healthy users in the testing group. The sensors also managed to pick up on elevated glucose levels in the sweat of six out of seven users after they had consumed sugary foods.
The device can allow patients to easily monitor their health from the comfort of their home and does not cause discomfort due to the compact size, said the researchers.
However, for "significant impact", the sensors will need to have a "correlation with blood levels," said Amay Bandodkar, a wearable electronics expert at Northwestern University, who didn't take part in the study.
The study has been published in the journal Proceedings of the National Academy of Sciences.